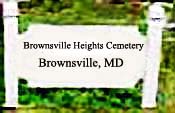 Fred Younkins Class 1931

Branch of service U S Army 1st Armored Div - Africa - Europe
Rank
Entered service
Discharged
Birth 10/27/1913
Died 1/6/2002
Buried Brownsville Heights Cemetery, Brownsville, MD
As originally published on Tuesday, January 8, 2002.
Fred Harley Younkins, 88, of 19614 Yarrowsburg Road, Knoxville, died Sunday, Jan. 6, at Washington County Hospital, Hagerstown.
He was the husband of Alberta M. Higdon Younkins, his wife of 56 years.
Born Oct. 27, 1913, in Garrett's Mill, he was a son of the late Maltby C. and Ruth N. Phillips Younkins.
He had retired after 25 years as a budget analyst for the Department of Defense.
He was a veteran of World War II, serving with the U.S. Army's 1st Armored Division in Africa and Europe.
He was a member of Brownsville Church of the Brethren and the building committee.
He was past president and life-member of Pleasant Valley Ruritan Club, former member of Washington County Planning and Zoning Commission, member of Clopper-Michael Post 10 American Legion in Boonsboro and Brunswick Veterans of Foreign Wars, and played many years in the Washington County Amateur Baseball League.
In addition to his wife, he is survived by two daughters, Marsha L. Deal of Bethany Beach, Del., and Jan M. Keefer of Waynesboro, Pa.; one son, Gale H. Younkins of Harrisonburg, Va.; and four grandchildren.
He was preceded in death by one sister, Rachel Higgs; and one brother, Earl Younkins.
The family will receive friends Wednesday, Jan. 9, from 7 to 9 p.m. at Bast Funeral Home, 7606 Old National Pike, Boonsboro.
Funeral services will be held 2 p.m. Thursday, Jan. 10 at Brownsville Church of the Brethren. The Rev. Daniel Johnson will officiate.
Interment will be in Brownsville Heights Cemetery.
In lieu of flowers, memorial donations may be made to Brownsville Church of the Brethren Memorial Fund, 1911 Rohrersville Road, Brownsville, Md. 21715.