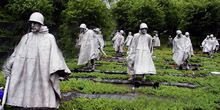 Howard Murray Cooper Class 1954
Branch U. S. Air Force
Rank
Born August 1, 1936
Died 1/27/2007
Buried Veterans Garden of Honor Resthaven Memorial Gardens, Frederick, MD

As originally published on Friday, February 2, 2007.
Mr. Howard Murray Cooper returned home to be with his Heavenly Father at 1:30 p.m. Wednesday, January 24, 2007.
Born in Brunswick on August 1, 1936, he was the son of Howard Ellsworth Cooper and Minnie Elizabeth Watts Cooper. He was a graduate of Brunswick High School, class of 1954.
Mr. Cooper was a retired U.S. Air Force veteran, as well as a retired locomotive engineer with the CSX Railroad.
He was an active member of the Church of Jesus Christ of Latter-day Saints and attended the Roosevelt 7th Ward. He served several callings since joining the church in 2001.
Born and raised on the east coast, he loved the west and lived in Roosevelt, Utah, for almost nine years. He enjoyed camping with his family, hiking, hunting, fishing and being a tour guide for family and friends visiting the area. He also enjoyed riding and caring for his two horses, Gris and Juliet.
His wife of 49 years, Barbara Ann Lerch Cooper, survives him. Howard and Barbara would have celebrated their 50th wedding anniversary on April 27 of this year. Seven children, Melissa of Roosevelt, Utah, Lisa of Colorado Springs, Colo., Shawnee and boyfriend Mark of Linden, Va., Martelle and husband Tom of Hyndman, Pa., Michelle and fiance Tom of Biglerville, Pa., Howard (Matthew) and wife Hope of Sharpsburg and Michael and fiance Christine of Frederick; 11 grandchildren; and seven great-grandchildren also survive him. Mr. Cooper's brother, Tom, resides in Gaithersburg.
A memorial service will be held at 11 a.m. Thursday, Feb. 8, at Resthaven Memorial Gardens Chapel Mausoleum, 9501 U.S. 15N, Frederick. Interment, with full military honors, will follow in the Veterans Garden of Honor I at Resthaven. Dr. Wayne Allgaier, of Brunswick, will dedicate Mr. Cooper's grave.
A service was held at the Roosevelt 7th Ward in Neola, Utah, on Monday, Jan. 29, at 1 p.m., with Bishop Val Killian officiating. The family received friends at Hullinger Mortuary in Roosevelt on Sunday, Jan. 28, from 6 to 8 p.m.
Arrangements in Frederick are with Resthaven Funeral Services, Skkot Cody P.A.