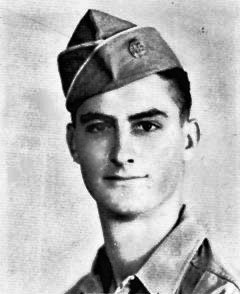 Howard William Gosnell Jr.
Class of 1942
Entered Service: April 13, 1943 at Fort George G. Meade, Maryland
Branch of Service: U S Army 17th Infantry Battalion, stationed in Italy for 18 months, fighting in North Apennines PO Valley.

Discharged: February 9, 1946 at Fort George G. Meade, Maryland
Rank: Technician Fourth Grade.
Died 10/20/2001
Buried Union Cemetery, Lovettsville, VA Lot D149 Section 4

Medals/Awards
Sharp Shooters M1 Rifle Badge, Good Conduct Medal, American Theatre Ribbon, European Africa Middle East Theatre Ribbon W/2 Battle Stars, WW2 Victory Medal.



| | | | |
| --- | --- | --- | --- |
| | | | |
| | | | |
| American Theatre | European Africa Middle East Theatre | Good Conduct | WW2 Victory Medal |

As originally published on Wednesday, October 24, 2001.
Mr. Howard William Gosnell Jr., 77, of Lovettsville, Va., died Saturday, Oct. 20, at Frederick Memorial Hospital.
He was the husband of Mildred I. Gosnell, his wife of 57 years.
Born Oct. 4, 1924, in Brunswick, he was a son of the late Howard W. Sr. and Lillian Virts Gosnell.
Mr. Gosnell was raised in Brunswick. He was a 1942 graduate of Brunswick High School.
He was a veteran of World War II, serving in the U.S. Army with the 17th Infantry Battalion, stationed in Italy for 18 months, fighting in North Apennines PO Valley.
Following military service, Mr. Gosnell worked 38 years, until his retirement, as a car inspector for the Baltimore and Ohio-CSX Railroad.
He was a member of Bethany Lutheran Church, Brunswick, a life-member of American Legion, Steadman-Keenan Post 96, Brunswick, and a member of Veterans of Foreign Wars, Post 10421, Brunswick.
Surviving in addition to his wife are one daughter, Susan Swain and husband John of Rogersville, Tenn.; one son, William Gosnell and wife Nell of Memphis, Tenn.; two grandchildren, Katherine and Pete Gosnell of Memphis; one sister, Evelyn Ambrose of Knoxville; and one niece, Elaine Hoffman of Hanover.
Friends may call from 7 to 9 p.m. Wednesday, Oct. 24, at Brown Funeral Home, 34 E. Broadway St., Lovettsville, where funeral services will be held 11 a.m. Thursday, Oct. 25. The Rev. Bruce Barth will officiate.
Interment will be in Lovettsville Union Cemetery, Lovettsville.